The Silent Movies of W. C. Fields: How They Created The Basis for His Fame in Sound Films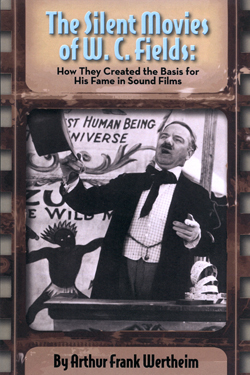 Book by Arthur F. Wertheim
Arthur Frank Wertheim's groundbreaking book is the first to examine W.C. Fields' twelve silent movies and how they influenced his later career in sound films. The author concludes that Fields might never have become one of the prem-ier comedians during the Golden Age of Sound Films without first embarking on a career in silent movies. In this explo-ration, readers will discover new insights and surprises concerning Fields' experiences in this medium.
The Silent Movies of W.C. Fields details Fields' early failed screen attempts, which resulted in his decision not to abandon his successful Ziegfeld Follies career, a choice that would prevent him from joining the pantheon of great silent film stars: Chaplin, Keaton, and Lloyd---each of whom, by 1925, had achieved worldwide recog-nition and success.
Wertheim relates how Fields would have to struggle against all types of roadblocks to reach the second pantheon tier - and how legendary filmmaker D. W. Griffith came to his rescue by directing two of his silent pictures.
The Silent Movies of W.C. Fields is a comprehensive depiction of Fields' early years in New York and Holly-wood, his personal and professional trials and accomplishments, his triumphs and disillusionments, each of which would lead to his ultimate screen legacy.
Generously illustrated with many new and rare photos, The Silent Movies of W.C. Fields will prove invaluable to fans of both the comic genius of W.C. Fields and his pristine time of moviemaking.
Arthur Frank Wertheim has written numerous books on Twentieth Century American Culture including The New York Little Renaissance and Radio Comedy. He has also co-edited with Barbara Bair three volumes on the The Papers of Will Rogers and edited Will Rogers at the Ziegfeld Follies and American Popular Culture. An American history professor at several universities, his awards include a Fulbright grant to teach at the Univer-sity of Indonesia. He has recently published a three-volume biography on W. C. Fields.