The W. C. Fields Trilogy by Arthur F. Wertheim
My life with W. C. Fields started on a spring day in May 2007. An article in The Los Angeles Times announced that the Academy of Motion Pictures Arts and Sciences was staging an exhibition on its fourth floor gallery titled: "The Amazing Peregrinations and Pettifoggery of One William Claude Dukenfield, late of Philadelphia, Pa., familiarly known to Crowned Heads and Hoi Polloi alike as W. C. Fields."
Entering the door to the show, I was bowled over by the sight. The walls were covered with colorful posters; original playbills; handwritten and typed personal letters; contracts; cartoons; photographs; stage scripts; movie scenarios; souvenirs from his performances abroad; and much more material. At one end of the room gales of laughter stemmed from visitors watching his films. The show embodied a treasure trove of memorabilia donated by the Fields family so that the public might encounter the astonishing career of an eminent comedian.
His complete papers remained unavailable for researchers until the family gifted them to the Academy. After perusing the multi-page inventory and the material for a few months, I became convinced that the seventy-one boxes in the Fields Papers are possibly the most voluminous and valuable collection of an American performer's career. The collection is a gold mine. It begins with his date book listing his first stage appearances in 1898 and ends with papers about his lengthy confrontational probate trial lasting until the mid-1950s.
A journey through Fields' career from 1898 to 1946 is an incredible ride that yields significant information about his appearances in practically every performance art during the first half of the twentieth century: club shows; burlesque; medicine, museum, and minstrel shows; American vaudeville; British music halls; leading European variety theaters; three Broadway revues, including performances in six annual Ziegfeld Follies; a star in the long-running Broadway show Poppy; twelve silent movies; thirty-two sound shorts and features; guest spots on radio comedy programs; and a recording artist six months before his death.
While in Ziegfeld's spectacular revue he created two comic characterizations--- the good-natured charlatan and besieged husband---two impersonations which reappear in his films. When he went to Hollywood permanently in 1930 to make films he took with him not only his stage scenarios but the techniques he used in the theater---pantomime and masterful timing as a jokester. He repeats his vaudeville acts, juggling balls, manipulating cigar boxes, and pool tricks for the screen. His 1918 Follies sketch as a frustrated bungling golfer is reused in The Golf Specialist (1930). Three of his four shorts for Mack Sennett stem from his stage scenes in the Vanities. Fields's hilarious "Sleeping Porch" scene from the 1925 Ziegfeld Follies is repeated in the silent picture It's the Old Army Game (1926) and sound film It's a Gift (1934). Three of his last movies can even be traced back to his stage career.
The Fields Papers unleashed the need for a three-part sequential series that reevaluates the evolution of his comedic art and its relationship to his personal life. The first book, W. C. Fields from Burlesque and Vaudeville to Broadway: Becoming a Comedian, discusses his early life and stage career until 1915. This second volume, W. C. Fields at the Ziegfeld Follies: Becoming a Character Comedian, dramatizes a momentous turning point in Fields's career. During his appearances in six Follies between 1915 and 1925 he moves from being typecast as a vaudeville comic juggler to a character comedian performing a variety of roles, which are repeated in silent and sound films. By the end of his Broadway performances, Fields has created his two most durable characters---an endearing con artist and harassed husband---an achievement that will bring him fame as a top film comedian.
Volume three highlights his astonishing career in sound films and radio that lead to his Phoenix-like rise to an American cultural icon during the 1960s and 1970s. His work and life in Hollywood resembles a roller coast ride of failures and successes. He nonetheless creates a remarkable cinematic oeuvre that includes two masterpieces, It's a Gift and The Bank Dick. Alcoholic addiction, accidents, and other afflictions undermine his health and cause studios to eventually fire him. His last films are mainly cameo roles causing his fame to plummet. During the 1960s his biting iconoclasm is rediscovered by devotees of the counterculture as well as respected film critics who hail his sound films, thereby creating a Fields resurgence. Volume three enlivens the saga of a virtuoso comedian, often called a comic genius, legendary iconoclast, and "Great Man," who brought so much laughter to millions while enduring so much anguish.
Due to the publisher's word count limitations, the author regrets that he was unable to include chapters on Fields's copious career in silent pictures. The author plans to examine Fields's significant silent films in another publication. Because of word count limits, the chapter end notes for volume three could not be to be included in the publication. The end notes will be found on the website www.arthurwertheim.com.
The W.C. Fields Trilogy Books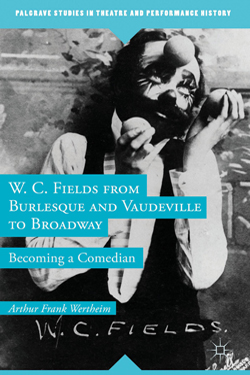 W. C. Fields from Burlesque and Vaudeville to Broadway: Becoming a Comedian
A virtuoso comedian, W. C. Fields is often called a comic genius and legendary iconoclast who gave the gift of laughter to multitudes during his epoch and left a legacy of humor for future generations.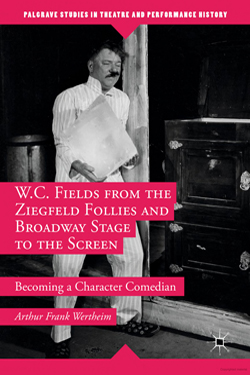 W. C. Fields from the Ziegfeld Follies and Broadway Stage to the Screen: Becoming a Character Comedian
This book reveals how Fields became a character comedian while performing in Broadway's most illustrious revue, the Ziegfeld Follies.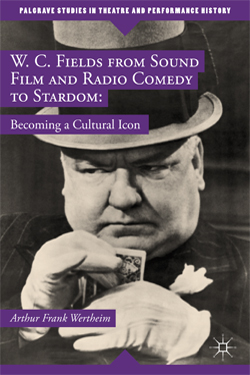 W. C. Fields from Sound Film and Radio Comedy to Stardom: Becoming a Cultural Icon
W. C. Fields is known as a virtuoso comedian and legendary iconoclast who gave the gift of laughter to multitudes.